Tennis
Tennis Information
All tennis activities are for paid members of Fairlawn Swim and Tennis only and not available for public registration or use.
All Tennis events are included on our Club calendar.
Sign up to receive last minute closure notices (due to inclement weather) here.
Free Clinics-Adult Tennis Clinics
Weekly Sign-Up Adult Tennis Clinic throughout the summer. No Cost for Club Members. Designed for Novice and Beginning Players, these Clinics will get you on the path to playing and enjoying Tennis All the Basics from Grips, Swings and Movement are covered.
No Racquet, No Problem! Demo Racquets Available.
Free Adult Cardio Tennis – Heart Pumping Fitness: Have Fun, Get Fit!
Bored with the same fitness routine? Energize it with a great way to get in shape and burn calories!
Cardio tennis is a new, fun group activity featuring drills to give players of all abilities an ultimate, high energy workout. Taught by our club pro, Alan Walker, music is played during the session to help create a high energy atmosphere and add motivation. Cardio tennis includes a warm up, cardio workout, and cool down phases.
Cardio tennis is free for all Fairlawn Swim and Tennis members!
All levels of experience are welcome. Tennis experience is NOT necessary!
Junior Tennis Program (Register Online Below)
Fairlawn Swim & Tennis Head Tennis Professional, Alan Walker, coordinates and leads the on-court instruction for the Junior Tennis program. The Junior Tennis program includes instructional tennis clinics for children 4 – 17 years of age. A Junior Interclub offers competitive opportunities. The clinics are designed to provide students with the skills necessary to be successful junior players and enjoy the game for many years to come. The clinics are divided into four groups depending on the age and experience level of the student. An experienced staff provides a fun and safe environment for tennis, athletic and social development.
– Junior Tennis Clinic Evaluation Day – June 1, 2-4p
The evaluation day is an opportunity for parents and junior tennis players to meet the staff, have their tennis equipment checked and hit few balls to be placed into the appropriate clinic. It is not mandatory but will be helpful if you have any questions about clinics, racquets, shoes or anything else related to junior tennis at Fairlawn Swim & Tennis. Registration forms and payments must be done online (see form below).
– Jr Tennis Clinics, June 3-August 8
The FST Junior Tennis Program offers instruction for athletes ages 4 – 17. Divided by skill level and age, the four clinics offer tennis and athletic training. Instruction, drills and games are coordinated by a friendly and experienced staff led by USPTA Professional, Alan Walker.
Clinics are every Monday, Wednesday & Thursday (except not on July 4th)
* Tiny Tots 3-4p
Approximate ages 4-7, Introduction to Tennis Basics
* Level 1 11:30-12:30p
Approximate ages 7-11, Beginning Tennis for New or Younger Players
* Level 2 12:30-1:30p
Approximate ages 9-14, Intermediate Tennis for Players with some Experience
* Level 3 1:30-3p
Approximate ages 12-17, Advanced Tennis for Competitive Players
* Junior Match Play on Fridays 12:00-2:00 (begins June 14th, no cost to participate)
For more information contact Alan Walker at 330-714-2776 or fsandttennis@gmail.com.
CLICK HERE (OR SCROLL TO THE BOTTOM OF THIS PAGE) TO ACCESS THE REGISTRATION FORM.
Evaluation Day on Saturday, June 1 at 2-4p is not required but may be helpful to place the athlete in the proper group.
Private Lessons and Clinics
Info coming soon!
Tennis Staff
Fairlawn Swim & Tennis has hired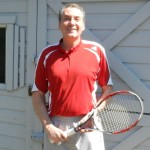 Alan Walker – Head Tennis Professional, Fairlawn Swim & Tennis
Since being introduced to the game by his parents in the early 1970's right here at Fairlawn Swim & Tennis, Alan Walker has been on a life-long journey to play better tennis. Long-time FS&T members will remember Alan spending hours on the courts and practicing on the backboard. Growing up in Akron, he took lessons and clinics at FS&T and Springside, competed locally in junior tournaments and then at Firestone High School. After graduating from Denison University he moved to Dayton and continued to play as a "weekend warrior" while working his "desk job". Moving back to Akron, he joined the Springside Tennis Staff in the fall of 1999.
Competitive success came early for Alan, winning his first Akron District Tennis title in 1975. Several junior tournament wins led to success on the high school level highlighted by trips to Columbus for the State Championships and setting the record (since broken) for wins in a season with 35. While playing at Denison University, Alan was a four-year letterman on teams that won the conference titles all four years including the 1987 team which he captained. Adult tournament success was highlighted by the 2005 Midwest Indoor 40s win with Rocco Cona. In the USTA Adult Leagues Alan has captained many playoff teams including the 2002 NEOTA 5.0 League winner and the 2003 5.0 team that won the Ohio State Championship, the Midwest Championship and qualified for the finial 16-team USTA Nationals.
As a coach, Alan assisted the Boy's and Girl's teams at Walsh Jesuit from 2001-2008 with Girls teams winning State Championships in 2002 and 2006. While working with these student/athletes several of the players qualified for District and State competitions. Many received college scholarships for tennis and/or academics.
Now, having taught for over a decade and played competitively for over 40 years, Alan combines a passion for tennis with a love of learning that makes the work of improving your tennis game easy and enjoyable. If you are new to tennis, or have or have been playing for many years, there is always something that Alan can help you with in your quest to be a better tennis player. In addition to teaching students of all ages and ability levels, Alan works closely with the USTA and NEOTA to coordinate junior tournaments and adults leagues. Spend any length of time around Alan you'll probably hear him say something that links a tennis lesson to real-life situations. Something like, "It often doesn't matter what you choose to do but how committed you are to what you choose." It's the commitment to constant improvement that keeps Alan playing tennis and working with players who share his zeal.
Alan and his wife Tracy live in West Akron where she is a teacher for the Akron Public Schools. No; she doesn't play tennis.
Assisting Alan this summer are:
Fairlawn Swim & Tennis is proud of its highly qualified tennis staff and the accomplishments of these fine student/athletes.
Tennis Court Specifications-courts open mid-May through late September
6 Har-tru courts
3 Lighted for night play
1 Sport Court-asphalt with all weather surface
10′ x 20′ Tennis backboard wall
Professional ball machine
Tennis Gallery
(click to enlarge)
Junior Tennis Registration Form