Tennis
Tennis Information
All Tennis events are included on our Club calendar, but a copy of
tennis only events can be downloaded here: 2017 Tennis Calendar
Tennis News
– Courts are OPEN!!
Upcoming Events
– Jr Tennis Registration and Signup: Junior Tennis Registration Form
Tennis Staff
Fairlawn Swim & Tennis has hired Rocco Cona of Springside Racquet & Fitness and CAR Tennis to be the Director of Tennis Operations. His list of accomplishments as a player, instructor, coach and owner/manager has no local rival. For over thirty years Rocco has developed the area's finest coaches and players.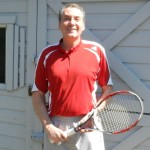 Alan Walker – Head Tennis Professional, Fairlawn Swim & Tennis
Since being introduced to the game by his parents in the early 1970's right here at Fairlawn Swim & Tennis, Alan Walker has been on a life-long journey to play better tennis. Long-time FS&T members will remember Alan spending hours on the courts and practicing on the backboard. Growing up in Akron, he took lessons and clinics at FS&T and Springside, competed locally in junior tournaments and then at Firestone High School. After graduating from Denison University he moved to Dayton and continued to play as a "weekend warrior" while working his "desk job". Moving back to Akron, he joined the Springside Tennis Staff in the fall of 1999.
Competitive success came early for Alan, winning his first Akron District Tennis title in 1975. Several junior tournament wins led to success on the high school level highlighted by trips to Columbus for the State Championships and setting the record (since broken) for wins in a season with 35. While playing at Denison University, Alan was a four-year letterman on teams that won the conference titles all four years including the 1987 team which he captained. Adult tournament success was highlighted by the 2005 Midwest Indoor 40s win with Rocco Cona. In the USTA Adult Leagues Alan has captained many playoff teams including the 2002 NEOTA 5.0 League winner and the 2003 5.0 team that won the Ohio State Championship, the Midwest Championship and qualified for the finial 16-team USTA Nationals.
As a coach, Alan assisted the Boy's and Girl's teams at Walsh Jesuit from 2001-2008 with Girls teams winning State Championships in 2002 and 2006. While working with these student/athletes several of the players qualified for District and State competitions. Many received college scholarships for tennis and/or academics.
Now, having taught for over a decade and played competitively for over 40 years, Alan combines a passion for tennis with a love of learning that makes the work of improving your tennis game easy and enjoyable. If you are new to tennis, or have or have been playing for many years, there is always something that Alan can help you with in your quest to be a better tennis player. In addition to teaching students of all ages and ability levels, Alan works closely with the USTA and NEOTA to coordinate junior tournaments and adults leagues. Spend any length of time around Alan you'll probably hear him say something that links a tennis lesson to real-life situations. Something like, "It often doesn't matter what you choose to do but how committed you are to what you choose." It's the commitment to constant improvement that keeps Alan playing tennis and working with players who share his zeal.
Alan and his wife Tracy live in West Akron where she is a teacher for the Akron Public Schools. No; she doesn't play tennis.
Assisting Alan this summer are:
Brittney Miller graduated from Revere and currently plays tennis at Ohio Northern.
Christin Reed graduated from Walsh Jesuit and attends Boston College.
Melanie Rozum graduated from Stow and attends the University of Akron.
Matt Miles attends Walsh Jesuit.
Fairlawn Swim & Tennis is proud of its highly qualified tennis staff and the accomplishments of these fine student/athletes.
Free Clinics Adult Tennis Clinics
Weekly Sign-Up Adult Tennis Clinic every Thursday. No Cost for Club Members. Designed for Novice and Beginning Players, these Clinics will get you on the path to playing and enjoying Tennis All the Basics from Grips, Swings and Movement are covered.
No Racquet, No Problem! Demo Racquets Available.
Free Cardio Tennis – Heart Pumping Fitness: Have Fun, Get Fit!
Bored with the same fitness routine? Energize it with a great way to get in shape and burn calories!
Cardio tennis is a new, fun group activity featuring drills to give players of all abilities an ultimate, high energy workout. Taught by our club pro, Alan Walker, music is played during the session to help create a high energy atmosphere and add motivation. Cardio tennis includes a warm up, cardio workout, and cool down phases.
Cardio tennis is free for all Fairlawn Swim and Tennis members!
All levels of experience are welcome. Tennis experience is NOT necessary!
Junior Tennis Program
Fairlawn Swim & Tennis Head Tennis Professional, Alan Walker, coordinates and leads the on-court instruction for the Junior Tennis program. The Junior Tennis program includes instructional tennis clinics for children 5 – 17 years of age. A Junior Interclub offers competitive opportunities. The clinics are designed to provide students with the skills necessary to be successful junior players and enjoy the game for many years to come. The clinics are divided into four groups depending on the age and experience level of the student. An experienced staff provides a fun and safe environment for tennis, athletic and social development. A Registration & Evaluation event will held Saturday, June 3 1:00-4:00pm.
Clinics begin Monday, June 5
Tiny Tots Wednesdays 11:30 – 12:30 and Fridays 11:00 – 12:00
An introduction to tennis for the youngest players. Students begin to learn the basic strokes while developing coordination and athletic skills. Approximate ages 5 – 8.
Level 1 Monday, Wednesday & Thursday 12:30 – 1:30
Students with little or no tennis experience acquire skills for all tennis shots. An emphasis on stroke production gives students a solid foundation of body and racquet control. Approximate ages 7-14.
Level 2 Monday, Wednesday & Thursday 1:30 – 2:30
Students with tennis experience refine their strokes and gain athleticism. Basic tactics and strategies for match play are introduced. Approximate ages 9 – 16.
Level 3 Monday, Wednesday & Thursday 2:30 – 4:00
Students prepare for competitive tennis by developing consistent racquet, ball and body control. Advanced tactics and strategies are developed in clinics and match play. Approximate ages 10 – 17.
Registration Forms available here.
Questions? Contact Alan Walker 330-714-2776 or fsandttennis@gmail.com.
Private Lessons and Clinics
Private Lessons and Clinics can be scheduled with USPTA Certified Tennis Professional, Alan Walker. To schedule a lesson or to get more information about personal tennis instruction contact Alan directly: 330-714-2776 or fsandttennis@gmail.com.
Players of all ages and abilities benefit from private lessons. Private lessons are the best way to improve technique. The mechanics of tennis strokes are improved most quickly when all the information is customized individually to the player with maximum repetition. Beginners, players returning to the game after a long layoff, or injury, benefit most greatly from the heavy emphasis on body and racquet control a private lesson offers; while experienced players find little changes can make dramatic differences. The shared experience of a tennis clinic allows players work with a peer group. This can help beginners feel more comfortable. Learning while watching others work to improve along with them can motivate; and it is sure to be fun. Clinics offer experienced players a chance to work together on strategies and tactics while still gaining valuable racquet skills.
Clinic Prices, Per Person
2 people 1 hour $22
3 people 1 hour $15
4 people 1 hour $12
2 people 1.5 hours $33
3 people 1.5 hours $23
4 people 1.5 hours $18
Private Lessons Cost $40 per hour. They are great way for anyone interested in playing better tennis to meet their goals. Gift Certificates for Private Lessons are available and are always appreciated by your favorite tennis enthusiast.
Tennis Court Specifications-courts open mid-May through late September
6 Har-tru courts
3 Lighted for night play
1 Sport Court-asphalt with all weather surface
10′ x 20′ Tennis backboard wall
Professional ball machine
Tennis Gallery
(click to enlarge)