Synchronized Swimming
CALLING ALL SYNCHRO STARS!
To join in the Fairlawn Swim & Tennis Synchro Program you must be a paid member of the club.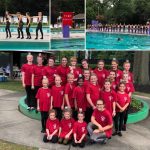 Our Synchro Team Coaching staff can be contacted by e-mail: SynchroCoaches@fsandt.com.
Sign up to receive last minute cancellation notices (due to inclement weather) here.
Kids ages 5 and up are welcome to join.
We collect a fee to cover the expenses incurred in running our synchro program. Fee: $75/kid
Practice times: M-Th 10:30am – 11:30am
The Synchro Show will be Sunday, July 21st at 6:30pm!!
Coaches: Chloe Sartori & Olivia Phillips
Parent's meeting is on May 23rd at 6:30 (immediately following the Swim Team meeting!). Aquatic Outfitters will be on site at 5:30pm to size for team suits. If you are unable to be at the Club for a fitting, please visit Aquatic Outfitters at 7223 Whipple Ave NW, N Canton (for store hours call 330.498.9179 or visit their website at https://aquaticoutfittersofohio.com/).
Swimmers MUST register online (see registration below) and pay at the time registration is submitted.