2021 Info
Last updated 5.24.21 – updates are highlighted in yellow
Click here to view our Bylaws
Click here to view our Club Rules
There is a lot of excitement from the Board and Management about the upcoming summer season! Below is a list of important items for you to review. While we are excited that the pandemic seems to have improved now in 2021.
Being an unprecedented situation, please trust that we are doing our best to manage the safety, wellbeing, and enjoyment of the Club for our members and employees.
Hours
Tennis courts are now open for play! Please note that we are still preparing the grounds and restrooms. Restrooms may have limited access until we officially open on May 28th.
The pools will open at 4 pm on Friday, May 28th.
To start the season below are our open hours. The pool hours will be revised as the swim team, synchro, and swim lessons conclude for the summer.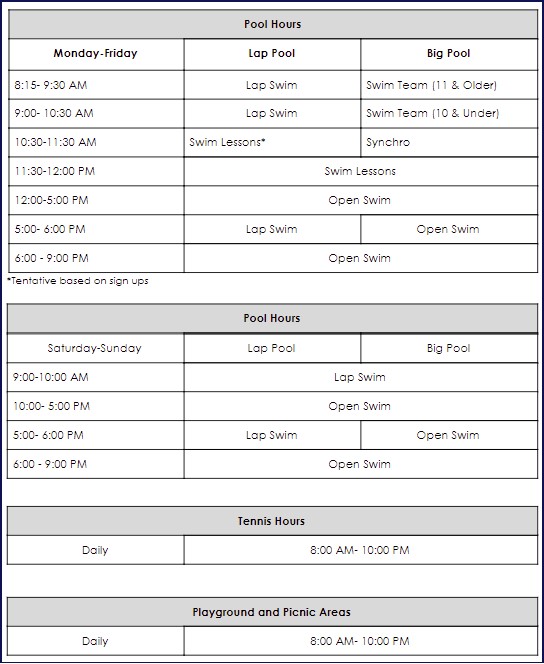 Activities
We are excited to announce that tennis lessons, swim lessons, swim team and synchro are returning this summer!!! Each program will have its own set of details released as they are finalized in the next few days.
The following activities are now available for registration through your member portal:
Tennis Clinics
Swim Team
Synchro
Watch here to see how to log into your member portal account and register for these activities: https://youtu.be/q33PjeS46jY
Seating
Based on the most recent guidance issued, the Board has decided to return to our normal seating policy. All seats throughout the Club are on a first-come, first-served basis. No seats will be reserved or assigned.
Every morning we will arrange chairs throughout the pool deck in groups of 2, 3, 4+. You may move seats as needed for your group. Please note that we are still required to limit seating to a maximum of 10 people to a group.
We will clean seats every night with a bleach solution. If you would like to clean your seats prior to using them, supplies will be available for you to use in the guard shack.
Court and Pool Status
Same as we have done in the last few years, we will continue to use the Remind app to keep our members updated as needed with important status updates on the courts and pools. Such notices will include things like when the courts are closed for being too wet, the pools are closed due to thunder, or seating is approaching full capacity. We have several Remind lists to allow our members to choose which types of notices they receive. Please see further details here: https://www.fsandt.com/up-to-date-info/.
Guests
While last year, we were not permitted to allow guests, this year we will welcome guests to the Club with some restrictions. To ensure compliance with our current guest policies described below, our guest process requires some changes. This year, to bring a guest, you will need to purchase a guest pass in advance of the guest arriving at the gate through your Membership Portal account. Guest passes will not be sold at the gate. The guest policy is subject to change without notice.
No guests on holidays (May 31, July 4, September 6).
For clarification, a "member" as stated below, means membership. Each membership has one member number and one member portal account. A Family or 21+ Year member is limited to 4 total guests per day, not 4 guests per person of the household listed on the membership.
The total number of guests permitted at the Club this year on any given day will be capped at 30. 20 passes will be available for purchase each morning at 8 am (for that same day) and the remaining 10 will be available for purchase each afternoon at 3 pm (for that same day).
One guest pass will cost $5 per guest per day, the same as it has been in years past.
A guest pass is good for the specific date you purchase it for.
The guest has in/out privileges provided you are on the Club grounds at the same times as your guest's visit.
Each member will be able to purchase up to 4 guest passes on any given day.
There is not a limit to the number of guest passes to purchase during the entire season.
Guest passes, once purchased are non-refundable unless the Club closes due to unforeseen circumstances (eg, inclement weather).
Guest passes are not transferable to other members nor transferable to a different date.
Guest passes will be purchased online through your Membership Portal account and issued electronically via email similar to the current ticketing process for many venues for concerts, live theater, and professional sports games. You (if you bring your guest in your vehicle) or your guest (if they drive separately) will be required to present the guest pass at the gate where it will be scanned for check in. We have the ability to scan the barcode from a phone/device or a printed copy.
While we expect the guest pass transactions to work best online, we understand that some of our members may not have access to a computer or device with internet access or a credit card which are the two requirements to purchase guest passes online. If you fall into this category, please contact Kelley at club@fsandt.com or 330.382.6768 for assistance.
Our guest policy remains that guests are free if they do not live in Summit County or our adjacent counties (Cuyahoga, Medina, Portage, Stark, and Wayne). Also, guests are free if they are overnight guests in your home and not residents of an adjacent County. We will be checking driver's licenses of guests at the gate to confirm their residential address. If you have guests who fall into this category, please send an email to club@fsandt.com at least 24 hours prior to bringing your guests to the Club to obtain your guest passes at no cost.
Please note that Kelley is the only person who is managing guest passes while we roll out this new process so any issues can be quickly resolved. While she is committed to respond as quickly as possible, please keep in mind that she has other clients, kids on summer break from school, and is also a member enjoying the Club the same as all of us. Providing as much lead time as possible will ensure she can help you with guest passes prior to your guest's visit.
Our last note regarding guests: please appreciate that while many members enjoy bringing guests to enjoy our wonderful facility, our dedication is to ensure our members have priority access to the Club. We are limiting the number of guests to do our best to balance guests while not putting ourselves in a position to turn away members at the gate due to unavailable seating.
Communal Items
The basketball hoop will be making its return from storage for this season and the diving board will be installed for use like it was last year. There will be routine cleaning of the diving board touch points as well as marks on the pool deck to provide for adequate social distancing for those who are in line.
Masks and Social Distancing
The club will continue to follow Ohio public health orders, and with guidance from Governor DeWine's office, the club will not require masks or social distancing beginning on June 7, 2021.
The health and safety of our staff and members remain our top priority. We are requesting that all members and guests self-monitor and not visit or attend events if they show symptoms or have been exposed to COVID-19. Additionally, the club has plenty of space and guests who wish to remain socially distant should have areas to do so. While masks will not be required, they are welcome and encouraged for those who wish to wear them.
Parties
Parties will be allowed in a limited capacity and with pre-approval from the Pool Manager after June 7th, more information to come!
Membership Portal
As announced in April, this year, we are excited to roll out a new membership portal where members will be able to log into their account to buy guest passes, pay annual dues, register for tennis lessons, swim team, swim lessons, dive-in movie nights, and more! Included in the portal will be an always current membership directory. If you are unable to access your membership portal account, please contact Kelley at club@fsandt.com or 330.382.6768.
We will keep our members notified throughout the summer of any changes by email. We will do our best to get our website updated through the season as well.
The Board and Management of the Club continues their promise to our members to do their best to be proactive and open to constructive feedback. We are committed to keeping the Club fun for everyone while ensuring the safety of our members and staff.
If any questions, comments or concerns arise during your visit at the Club, Elena Gibbons, Club Manager, and John Nauer, Assistant Club Manager, will be happy to assist you. Any lifeguard can put you in direct contact with them while you are on site. Alternatively, you can call either of them at the Club at 330.864.9060. Elena can also be reached by e-mail at ElenaGibbons@FSandT.com.
If you would prefer to speak with a Board Member, please send an e-mail to Club@FSandT.com and your message will be forwarded to the appropriate Board Member(s) for resolution.